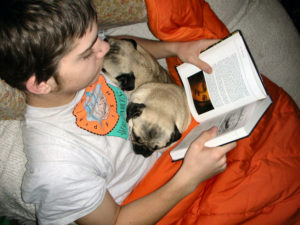 If you are the parent of a boy, you need to meet the author Jon Scieszka. It will take you a while to spell his name correctly, but that's okay.
Jon was born in Flint, Michigan in 1954, one of six boys. His parents immigrated from Poland and his last name means "path" in Polish. Jon Scieszka is a funny guy.
He went to a military academy as a young boy and graduated with the goal of becoming a doctor. Something changed along the way and he ended up in Brooklyn studying fiction writing at Columbia University and painting apartments as a living.
He later taught elementary school for ten years working his way from first grade all the way through 8th. His students loved his zany stories.
Unfortunately publishers did not have the same enthusiasm for Jon's stories until his A.Wolf's Tale was accepted and published as The True Story of the 3 Little Pigs. That book has sold over three million copies.
Other titles by Scieszka include The Stinky Cheese Man, Robot Zot, Science Verse, Knucklehead and Math Curse. His books have sold over fourteen million copies worldwide.
But writing children's stories isn't his greatest achievement in my humble opinion. No, it's that he has a wacky and wonderful website for guys called Guys Read.
As you might imagine, Scieszka understands the things that keep boys from wanting to read books. Fluffy kittens and princesses might be two of them. So Jon has created a killer website with all kinds of reading suggestions tailored to boys. He selects a book of the month, makes lists of stories available in various genre (my favorite: books with at least one explosion) and generally directs reluctant readers to great reading materials.
And, remember, Jon Scieszka is funny. Boys love funny. If you don't believe me, go to either jsworldwide.com or guysread.com. Then get your boys on there, too. (Don't miss his welcome message from the President).