Homegrown Books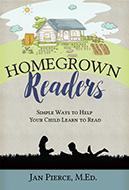 Homegrown Readers: Simple Ways to Help Your Child Learn to Read is available at Amazon and Barnes and Noble. This book is for parents who want their children to be strong readers, but may not know how to help them learn. Written out of many years of teaching experience, this book will give you simple, but important ways to support your child in the learning to read process.
Consider gathering a group of parents to take part in a Homegrown Readers Discussion Group. You'll find key ideas from each chapter and discussion questions at the end of the book to guide your discussion. And the entire group will benefit from sharing their child's struggles and successes in the important quest to become a strong reader.
If you would like a signed copy for $15.00 including shipping, please fill in my contact form.
To purchase via Paypal, please click on this link:
Thanks,
Jan Pierce